India is known for its culture, different languages and amazing beauty. All states blessed with their art, own individuality what makes them different & unique. No doubt! India has one of the best places to explore, trek and visit. Not only with the hills, valley & sight-seeing, there are some Largest Bird Sanctuary in India. Nature lover must die for, must visit them once in lifetime.
If you are ecologist, who love to explore scenic beauty surrounded by green mountains, trees, rivers and fountains. India is blessed with such places and states. Wherever such place exists, you must witness beautiful birds, watching birds is a sight that delight your senses. India is initiating for preserving bird species, such places are called Bird Sanctuary In India, so we can keep watching these amazing creature.
India has some splendid bird sanctuaries, which are houses for a wide variety of birds and some exotic bird species. Apart from it, many migrating birds can also be found, they consider such places comfortable for better breeding, especially for the winter season. Now, such sanctuaries are home for more than 1200 (estimated) throughout the year.
The climate condition of India and topography of India, make these birds preferable for migrated species including Indian bustard, the great hornbill and more. We are going to mention, some of most Famous Bird Sanctuary In India, where they are located, when & how you can visit them, etc. read carefully about the top Bird Sanctuary In India, which are truly a paradise for numerous birds and for avaricious bird watchers and ecologist.
Sultanpur Bird Sanctuary, Haryana:
It is located in Gurugram, Haryana, best time to visit in winter when you can witness more than 250 species of birds. You can spot some popular migrated species- Russia, Siberia, Turkey, Eastern Europe and more.
Location: Farukh Nagar, Sultanpur, Gurugram, Haryana
Entry Fee: Indian 5 INR, Foreigner 40 INR
Time to visit: 6AM TO 5PM (October to February)
2- Bharatpur Bird Sanctuary, Rajasthan:
Now is known as Keoladeo bird sanctuary and declared as UNESCO World heritage site,that's why gain such popularity. It also preserved some animal species, which makes this place more delight for nature lovers.  You can easily locate this Bird Sanctuary in India Map, as it tops the chart of Indian bird sanctuary.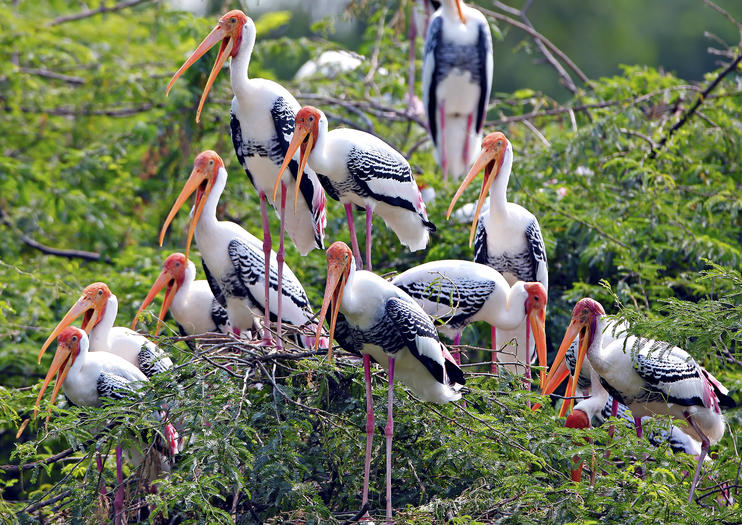 Location: Keoladeo bird sanctuary, Bharatpur, Rajasthan
Entry Fee: Indian 50 INR, Foreigner 400 INR
Time to visit: 8AM- 5PM (December to February)
3- Kumarakom Bird Sanctuary, Kerala:
We all know that kerala is one of the most beautiful state of India, consists with several rivers, tree gardens, mountains, even the tree houses and boat houses. If this state has such things so why left behind for birds. You can watch a wide range of birds in Kumarakom bird sanctuary.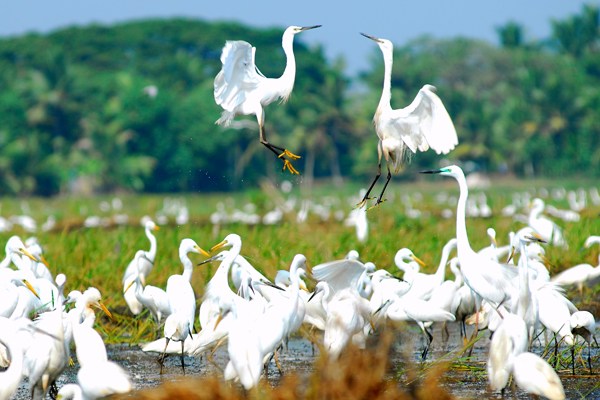 Location: Kavanattinkara, kumarakom, Kerala
Entry fee: Indian 50 INR, Foreigner 100 INR
Time to visit: 6AM-6PM (November to February)
4- Salim Ali Bird Sanctuary, Goa: it named after a famous
ornithologist Salim Moizuddin Abdul Ali, if want to see rarely found species of birds, it must have to be in your bucket list.So, what are you waiting for, pack your bags today and book your ticket for it.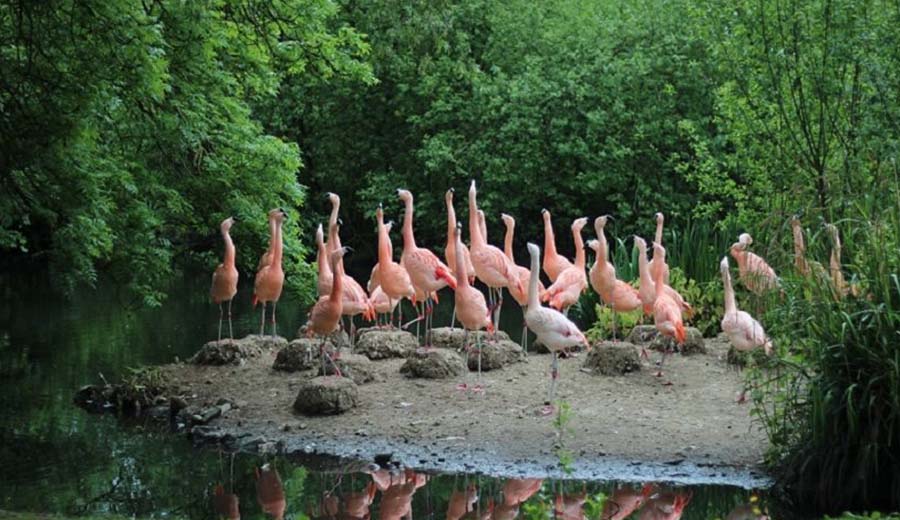 Location: Chorao Island, Ilhas, Ribandar, Goa
Entry fee: Indian 10 INR, Foreigner 100 INR
Time to visit: 6AM-6PM (December and January)
5- Vendanthangal Bird Sanctuary, Tamil Nadu:
This sanctuary is located in Kanchipuram, spread over around 30 acres area. It is considering as the oldest bird sanctuary in this area. People can see almost 40,000 migrate birds every year as the area of this sanctuary is huge.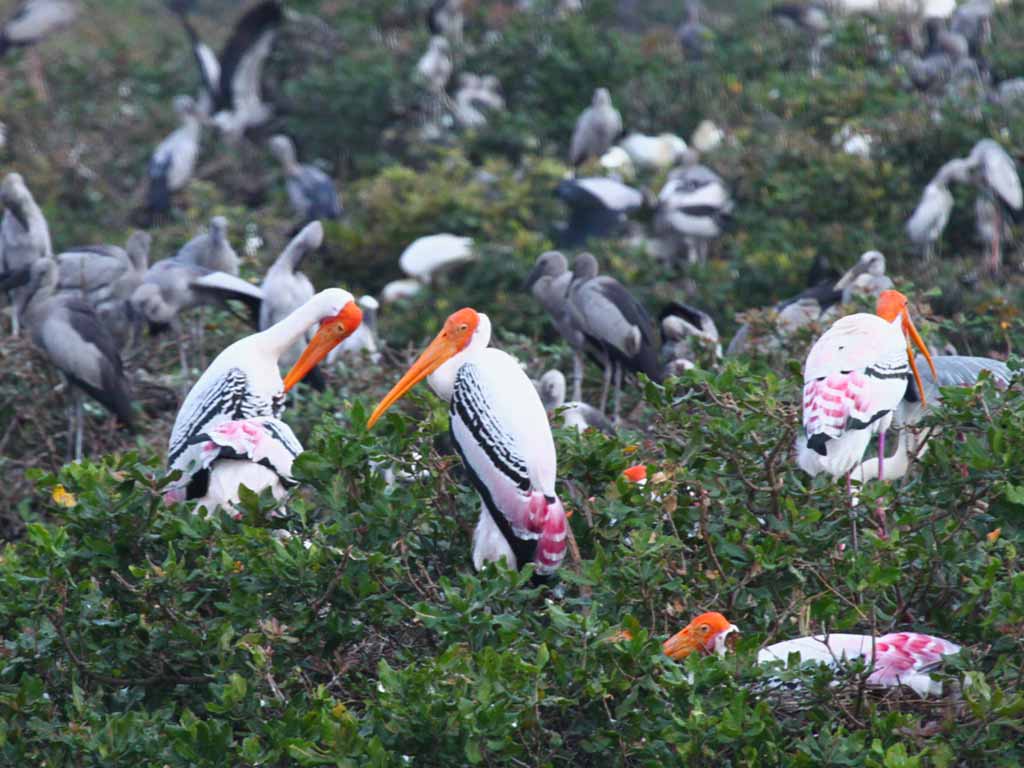 Location: Vedathangal, Madurantakam, Tamil Nadu
Entry Fee: Indian 5 INR, Foreigner 50 INR
Time to visit: 6AM-6PM (October to January)
6-Nalsarovar Bird Sanctuary, Gujarat:
The land of this state is huge, consider the most colorful state of India. People around the world visits this state every year in huge number. The Nalsarovar bird sanctuary is a home for thousands of species such as ducks, eagles, geese, flamingo etc.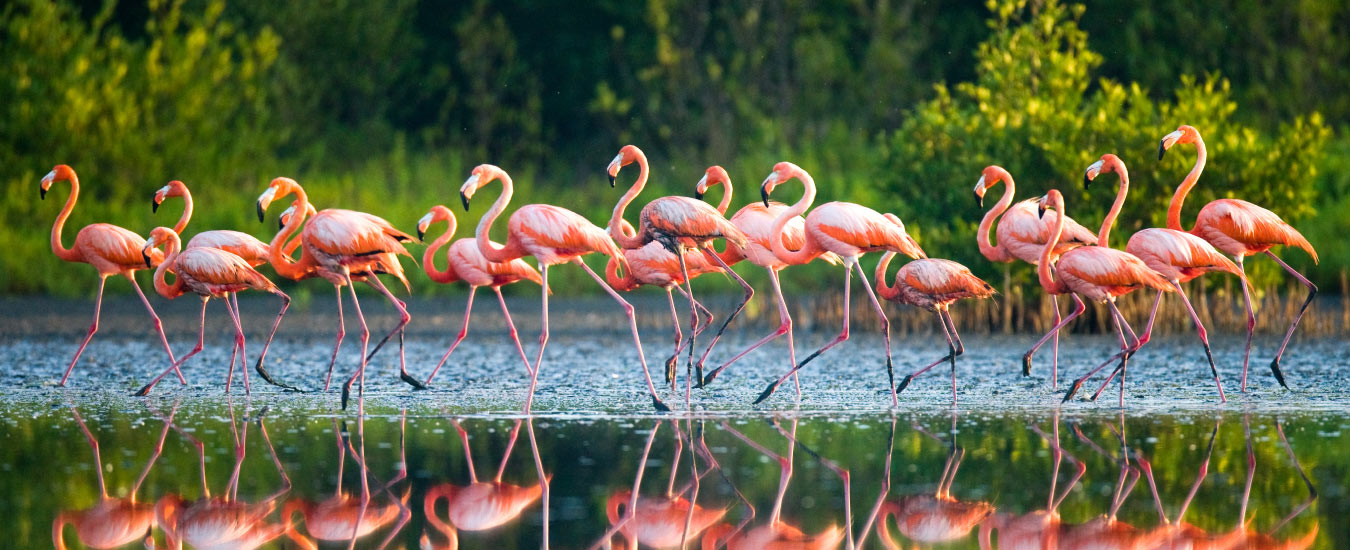 Location: Bagodara, Nalsarovar Link road, Nalsarovar, Gujarat
Entry fee: 150 INR per person
Time to visit: 6AM-6PM (October to March)
7-Okhla Bird Sanctuary, Uttar Pradesh:
You can reach here easily as it is well connected with road as well as metro, you can even take a cab to reach there. You can spot trees with man-made nests for birds, where you can clearly hear the sound of birds chirping and there is also a huge lake where you can spot some species of fish.

Location: Noida Plaza, N Block, Pocket K, Sector 95, Noida
Entry Fee: Indian 30 INR, Foreigner 350INR
Time to visit: 7AM-5PM (October to March)
Conclusion:
Hope you like the above mentioned list of Best Sanctuary In India, which are most popular and visits by thousands of people from our country and others every year. These sanctuaries are well maintained, wisely preserved the numerous species birds & animals. In order to preserve them, take care of them and for further breed them. These places are must visit type everyone should visit them once in a life.
Also Read: Popular vacation destinations for a trip with your guy gang