Georgia is a beautiful country strategically located between Eastern Europe and Western Asia. It shares borders with Russia in the North, Armenia in the South, Azerbaijan in the East, and the Black Sea in the West. The soaring Caucasus Mountain Range, picturesque mountain valleys, traditional architecture, cobbled streets, and the Black Sea beaches are some of this beautiful country's natural charm. From the hypnotic shades of green in vineyards to hues of blue of the Black Sea, along with the old churches, the Roman city of Batumi, castles, and the capital city of Tbilisi, Georgia attracts many tourists every year. Whether you are an adventurer, history buff, art lover, nature enthusiast, or city dweller, this country has much to offer to all kinds of travelers. The warmth of the people and shopping in the colorful markets, where you can try your bargaining skills, will surely delight you! Keep on reading this article for why you should choose to visit Georgia as your next travel destination.
Food Haven
Georgian Cuisine is a blend of Persian, Mediterranean, Arabic, Ottoman, and Mongol flavors. The local chefs turn fresh ingredients, spices, and age-old recipes into sumptuous dishes. A local favorite among Georgians is Khinkali, dumplings filled with cheese, pork, beef, mushrooms, or potatoes. There is a lot of variety in vegetarian dishes as well. Badrijani (fried eggplant with walnut sauce), Lobio (thick bean soup), Khachapuri (cheese bread), and Ajapsandali (vegetable stew) are a few of the must-try vegetarian dishes on your visit to Georgia.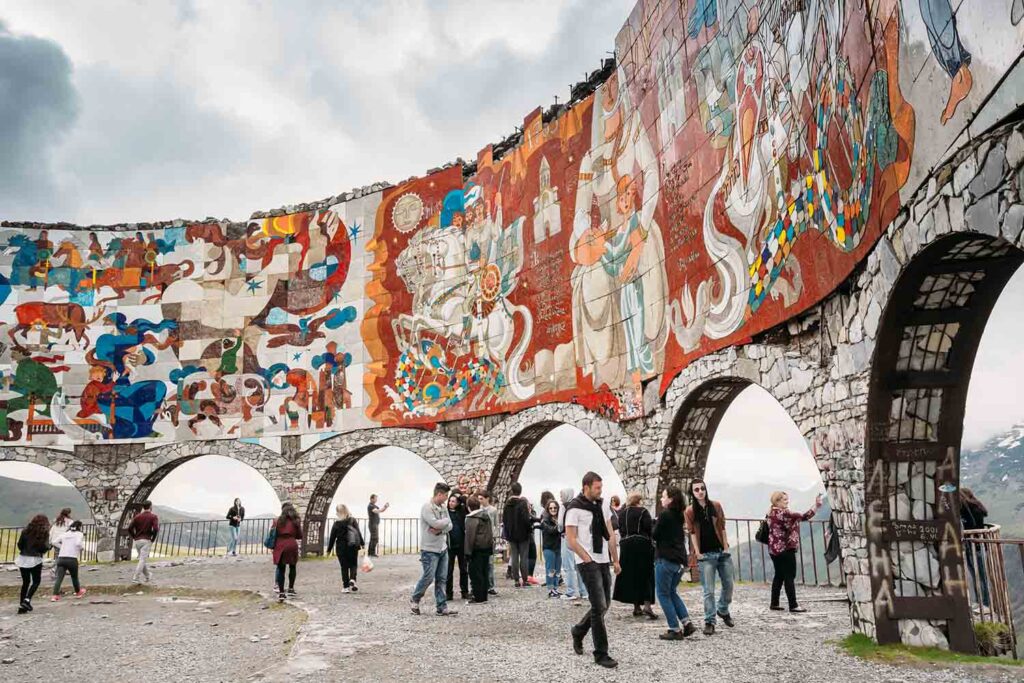 Beautiful Landscape
The landscape of Georgia is breathtaking. Enjoy the stunning views of the mountains, the Black Sea beaches, green valleys, incredible caves, highlands, and more. Thanks to the diverse landscape, Georgia has become a hub for adventure seekers in recent years. The mighty Caucasus mountains running through Georgia, Azerbaijan, and Russia are a sight to behold. You can go paragliding in the Caucasus mountains, hiking and trekking in Mt. Kazbek, skiing in Gudauri, camping, horseback riding in the numerous valleys, and white water rafting. Explore the lakes, canyons, and waterfalls.
Excellent Wine
Georgians have been making the best wine for at least 8000 years. Georgians are proud of their wine. They have designed an underground home (Marani) and buried clay vessel (Kvervris), creating a unique world-renowned way of making wine. Since the wine-making regions are sunny and warm, the wines of Georgia are fruity and semi-sweet. The Mtsvane (dry white), Saperavi (red), and Kindzmarauli (semi-sweet red) are among the noteworthy. Apart from the Orange wine, you should taste Chacha (a grape spirit with 40% alcohol) and the craft beer of the mountainous regions.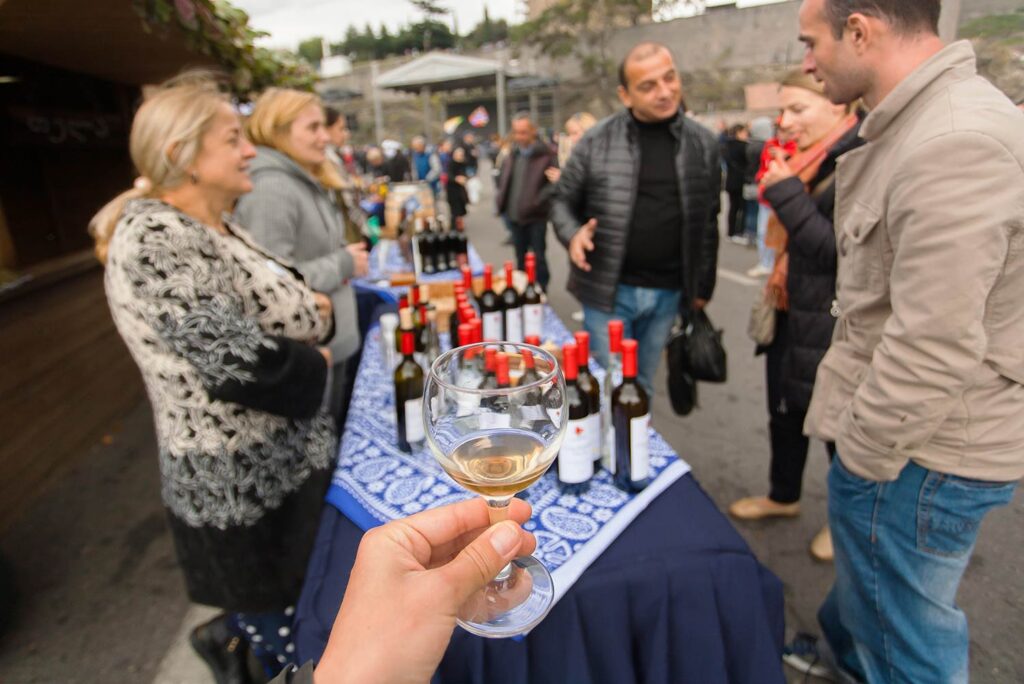 Hospitality
The people of Georgia are very kind, friendly, polite, humble, hospitable, and welcoming. They often greet visitors with a smile. Georgians love to indulge in conversations with their guests and talk about their rich cultural heritage and history. Georgians treat their guests royally. Expect a Supra (Georgian feast) if you visit a Georgian household for a meal. They make you try every dish served on the table. The way Georgians treat their guests will surely amaze you and change your perception about traveling to a foreign land.
Budget-Friendly
Georgia has always been a budget-friendly destination, from its visa-free policy to the low cost of food. The Georgian Lari has devalued by approximately 30%. If you are on a tight budget, you can have a meal for 10 GEL. Draught wine (house wine) is available at most local restaurants for 3-5 GEL per glass. You can have a bottle of red wine for 30 GEL in a good restaurant. Your budget will depend on your travel preferences. Even if you stayed in boutique hotels, used private transfers around the city, and ate at good restaurants, you would still be on a very inexpensive holiday. It is affordable for a tourist to get a sim card in Georgia.
Sulfur Baths
Abanotubani has several public and private bathhouses, where you can have an exfoliating massage or plunge in a pool filled with sulfurous water. The design of the bathhouses is such that it allows natural light inside and ventilation for the sulfuric steam to escape. The waters are naturally warm. This sulfurous water is supposed to be good for the skin and helps to treat psoriasis. It helps in the treatment of asthma and rheumatism too. Borjomi, the country's most famous mineral water, was renowned during the time of the Russian Empire as a healing place. The city also has good spa hotels.
Old Town Tbilisi
Walking through the lanes of Old town Tbilisi, you can see the fusion of architecture with European and Asian influences evident in narrow cobblestone lanes and old residential houses with wooden balconies. Old Town Tbilisi is built on a hillside up from the River Mtkvari. During a stroll around the place, you can visit ancient churches, buildings, and monuments set against the dramatic hillside. For a panoramic view of the city, take a cable car from Rike Park. Do visit the Holy Trinity Cathedral. To relax after all that walking, you can soak at the thermal springs located in the middle of Tbilisi's Old Town.
Svaneti, a Medieval Land
One of the most enchanting places, Svaneti, is situated in northwestern Georgia along the slopes of Caucasian mountains. This province has hundreds of watchtowers that helped the locals to keep invaders at bay. It is accessible only through a single long and winding road. Ushguli, in the Svaneti region, is 2200 meters above sea level and is considered the highest settlement in Europe. It is on the UNESCO World Heritage Site list as one of the highest inhabited settlements in Europe. The village lies at the feet of Shkhara, one of the highest summits of the Caucasus mountains.
Cave Cities
There are three cave towns in Georgia. The first and oldest is Uplistsikhe, a complex situated on a cliff-side overlooking a river. This rock-cut cave town displays architectural styles from Iran and Anatolia. The second is the David Gareja Cave Monastery in the Kakheti region. It is a sixth-century cave founded by St. David Gareja, one of the 13 Assyrian monks who played the role of spreading Christianity throughout the country. The third is Vardzia, a spectacular underground city that once housed 2000 monks. It is known as the Georgian jewel of Medieval architecture, carved into a steep mountain wall 1300 meters up.
Batumi, a Coastal Charm
The western part of Georgia, bounded by the Black Sea, is a go-to summer destination for the locals. The weather in Batumi varies since it is in a subtropical zone. It is hot in summer and covered in snow in winter. Besides being a bustling seaside place attracting many tourists, Batumi is an important seaport. The beaches in Batumi are stony without sand. You can enjoy the bustling nightlife, modern architecture, and cultural festivals while visiting this coastal city. The attractions of this place include Batumi Botanical Gardens, Dolphinarium, Dancing Fountains, Monument of Ali and Nino, and many more.
Georgia is a hub of architectural beauty. The country is made of delicious food, hospitable people, incredible landscapes, vibrant cities and much more. The road conditions and exceptional road connectivity make it easy for travelers to plan a road trip across the country. It is one of the best countries to spend a holiday with your family or travel solo. Georgia Holiday Packages will help you plan your trip to this beautiful country and make it hassle-free and affordable.